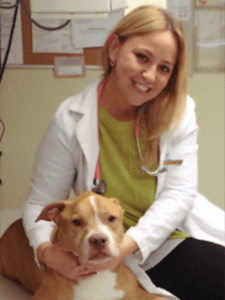 Dr. Kaminski
Dr. Frances Kaminski started at Rivergate as an assistant prior to attending veterinary school and joined the practice in 2016. She received her undergraduate degree from Emory University in Atlanta, GA, where she adopted her dachshund mix, Roscoe.
Dr. Kaminski went on to receive her DVM from St. George's University in Grenada and completed her clinical rotations at Cornell University. After graduation, she worked for 2.5 years in a small animal practice in Westchester County. During that time, she worked closely with Best Friends Animal Society, caring for and rehabilitating rescue cats and dogs in an effort to find them good homes. She continues to have a passion for rescue efforts, which is how she found her terrier-mix, Jake, and has participated in high-volume spay and neuter clinics overseas.
During her free time, she enjoys the beach, spin classes and exploring new restaurants around New York City with friends.
New Patients Welcome
Rivergate Veterinary Clinic is accepting new patients! Our experienced vets are passionate about the health of New York companion animals. Get in touch today to book your pet's first appointment.